Last week on Friday William Tempest came to visit our college and talked to us about his career and life in college and afterwards as he was a fashion student at Mid Cheshire college several years ago.
If you dont know who William Tempest is he is a British Fashion designer from Cheshire (were i'm from!) He's also attended The London College of Fashion and worked at Giles Deacon in London and Jean Charles de Castelbajac in Paris.
During his talk we had a chance to ask him questions but not many did and as I was a bit star struck and scared to say anything so I held back.
However, after the talk he went through his portfolio. (which looked amazing)
His portfolio has definitely made me want to be more creative with my work and I have learned how effective simple things can be, such as embelishments, the media you use or just the colour.
I have also learned to concentrate on the smaller details, like the shape of a neckline or what material to use as sometimes they can make a big difference to your garment or work.

What will I take from his visit?
Ans: I will try to gain more experience in the field that I wish to work in and I have now become more aware of what I am attracted to and can hopefully condence this into a style of my own.


He has worked with many celebrities and a lot of them wear his dresses regularly including Emma Watson, Rihanna, Victoria Beckham, Leona Lewis and so on...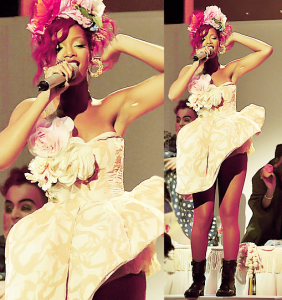 Thanks for reading, I hope you liked this post. What do you think about William Tempest's work??